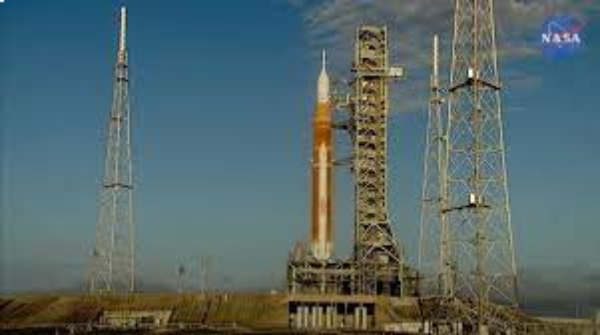 Today, NASA suspended the last significant trial of its Space Launch System (SLS) rocket after compression issues kept experts from securely stacking charges into the rocket. The test – known as a wet dress practice – has been delayed until Monday, April fourth at the earliest, NASA declared in a post on the Artemis I live blog.
"Groups have chosen to clean failing activities for the wet dress practice because of loss of capacity to compress the versatile launcher," NASA made sense of. A few fans on the portable launcher – the stage that offers help for the rocket up until send off – couldn't keep up with positive strain, which is pivotal in warding off unsafe gases. Therefore, NASA professionals proved unable "securely continue" with the fuel-stacking process.
This sort of dress practice gets its "wet" name since it's basically a gone through of the multitude of methodology NASA should complete when the primary genuine send off of SLS happens, including filling the 322-foot rocket with 700,000 gallons of charge. In a question and answer session on Sunday evening, NASA said its group is right now on the platform endeavoring to investigate the issue. The office expresses it's on target to continue the wet dress practice tomorrow.
The test initially started on April first at the Kennedy Space Center in Florida and should wrap up on Sunday. NASA experienced some unpleasant climate Saturday night, as lightning struck the pinnacles around the SLS's platform. Jeremy Parsons, the appointee program chief at NASA's Exploration Ground Systems, expressed one of these strikes was one of the most grounded NASA has seen since introducing the lightning assurance framework. "It hit the catenary wire that runs between the 3 pinnacles," Parsons wrote in a tweet from the EGS Twitter account. "Framework performed very well and guarded SLS and Orion."
The SLS should convey the Orion rocket on an uncrewed mission around the Moon as a feature of the Artemis program, a flight called Artemis I. That mission, likely booked for this late spring, should get the rocket – and NASA – prepared for the mission that will ultimately convey people to the lunar surface.